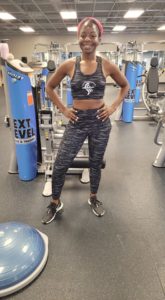 I started training with LaTanya in My forever free fitness workout gym about a year and a half ago. At the time, all I wanted was a little more accountability. I've always been relatively active and athletic, and I would work out on and off at the gym, but I wanted a little more than the same-old routine. I wanted something dynamic. I wanted to push my body a little further—past what I thought I was capable of and beyond where my body had ever been before. Training with LaTanya has not only transformed my body and the way I think about nutrition and fitness, but it has also grown my confidence and strengthened mental fortitude. My body looks different now than it did a year and a half ago, and even when I slip up or miss a few gym days, the foundation is still there. I have a new normal.
I met LaTanya at a time when my life felt like it was under construction. My decision to prioritize my physical health has paralleled my resolve to heal and grow all across the board. I've received more from LaTanya than I could have ever imagined I would receive from a trainer! I'm so glad to know her!
Lisa M - Fitness level beginner
I attended my first class with LaTanya December 2021 and LOVED it. The class is structured for all fitness levels. LaTanya shows modified versions to all moves done in class and monitors everyone to make sure they are doing them correctly to prevent injuries. This class has people from all fitness levels and everyone was so encouraging to each other, I felt very comfortable working at my own level.. I believe I have found the perfect class to carry me through my fitness journey. If you try it once, you will LOVE it too. I have attended her class both in person and virtually and did not feel lost in either.