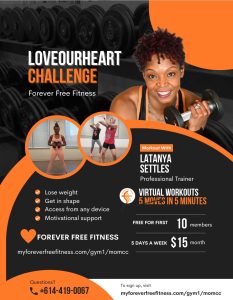 Are you looking to taking some time to LOVE on you!
The LoveOurHeart Challenge is
5 moves 1 minutes each move!
Activating the entire body!!!
This challenge will begin the ACTIVATION to transform your body, reset, refocus your mind, revamp YOU !!
We're here for you ❤
We don't care what kind of shape you are in, only that you try at your own pace and let your Coach help you while having fun, getting,  empowered, inspired, transformed 😀 👠
▶︎Not a "magic pill" or "gimmick", "no quick fixes"
You will have to put in the work
Reserve your spot by clicking this link
below.